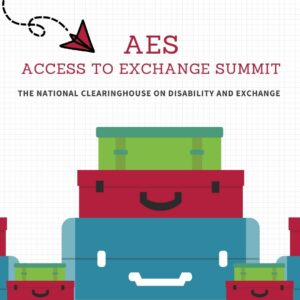 The 2023 application is closed. Check back for the next time we offer AES.
Studying abroad for the first time can be overwhelming for anyone. You have to decide on a program, figure out how you'll pay for it, make sure that you will receive credit towards any degree programs you might be completing, obtain a passport and more. If you have a disability, you may find yourself with even more questions that a program might not be able to answer. And that's all before even leaving the country!
Enter the Access to Exchange Summit (AES), a course designed to prepare you for whatever awaits you along your international journey!
AES Course Description
AES is a weekend online preparatory course designed for a cohort of U.S. individuals with disabilities about the many opportunities to study or volunteer abroad. The course includes guidance about disability-related considerations.
Those who successfully finish AES will receive a certificate of completion from Mobility International USA (MIUSA).
The course will cover a variety of topics including:
Disability culture around the world,
Discovering different types of international exchange programs,
Creating your own international education plan,
Conducting research into a program,
Researching disability-related concerns, and
Negotiating reasonable accommodations.
What AES Participants are Saying
"This is the first time I've learned from disabled folks about how to navigate travelling abroad. Before this experience, I was feeling nervous about if it was possible for me to travel abroad and now I feel more hopeful and confident…Thank you so much for your time and support!"
"I think this tiny course was very informative and useful. It opened me up, and gave me fresh avenues to know what to ask about, what to look for, and who to talk to. Thank you for making this a meaningful experience!"
Who is it for?
This is the course for you if:
you have a disability,
you are between the ages of 14 and 30,
you are based in the United States and planning an exchange from the USA to another country,
you have never been abroad before,
you are not sure if international exchange is for you and would like to learn more,
you don't know where to start.
Be a part of the next cohort!
The 2023 summit will be Saturday June 24th from 10AM to 4pm Pacific (Los Angeles) over Zoom.
Application Process
The AES application is closed
Help Us Promote AES
We would like your help promoting AES among your networks. Use our AES social media kit on Google Drive to save and share the following:
Promotional Poster/Flyer (Also available in Documents)
Alt. Text and Image Description Word Document
Images to promote on social media
AES is an initiative of the National Clearinghouse on Disability and Exchange (NCDE), a project of the U.S. Department of State's Bureau of Educational and Cultural Affairs, designed to increase the participation of people with disabilities in international exchange between the United States and other countries, and is supported in its implementation by Mobility International USA.