Welcome to this release of the AWAY Journal, highlighting the ways that people with disabilities are expanding the definition of international exchange by seeking out experiences abroad.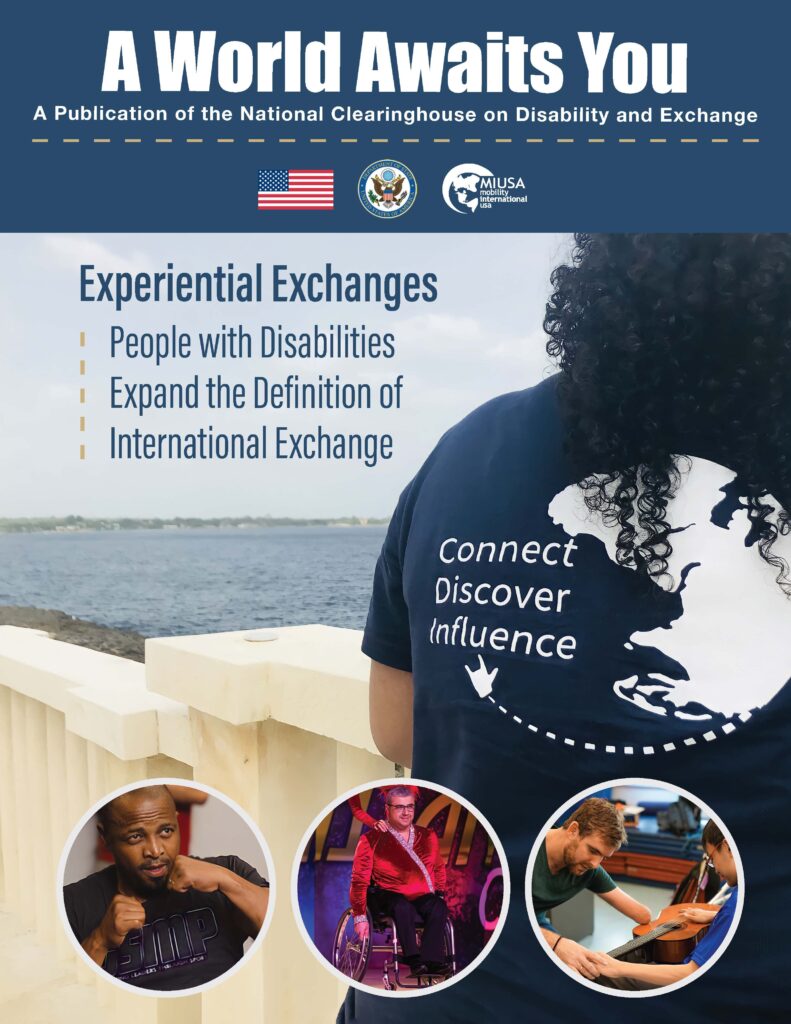 You have 3 options for reading this magazine.
Access the accessible HTML version, navigating with the provided links and table of contents.
Download in accessible PDF, available under documents.
Order printed copies at no charge by reaching out and letting us know how many you would like and where to send them.
Experiencing the World through Open-Mindedness and Creativity
From the Editor: Justin Harford
To open this latest release of the AWAY Journal, NCDE program coordinator Justin Harford reflects on an experience that he had when he visited a couple of blind friends in 2015 in Mexico. Justin, who is blind, originally met these friends when he studied abroad in their country in 2008.
One of my most memorable international experiences was in 2015, when I went with a couple of my friends from Mexico to visit a diamond mine in the city of Guanajuato. It was not so much the experience of walking down a mine, with what felt like almost 20 flights of extremely steep, jagged and uneven asphalt stairs, clinging to a rope for balance, with my low vision friend Rosie giving my totally blind friend Omar clues about where to put his feet. It was memorable because before we started on the long trek downward, our tour guide suggested that three blind people might not be safe in a diamond mine, but our assurance that we would be safe was enough for him to be willing to guide us. No second guessing, no refusal to work with us, and no justifying it based on false assertions that it was for our own safety.
Once at the bottom, our guide turned off the lights in order to simulate for us the absolute darkness under which miners in the 16th century would have worked as they extracted the mine's bounty. The irony was not lost on me.
Start with Yes
Everyone should approach situations involving people with disabilities like that tour guide, and start with "yes." Exchange professionals can start with "yes" by considering each situation independently, and not rushing to conclusions based on stereotypes. Individuals with disabilities can start with "yes" by focusing on what you want to do rather than what you or others think you can do and by doing your own research and not simply accepting what a program tells you as the final word.
This publication includes something for professionals and individuals alike. Through the tips sheet and best practices shared, professionals will learn about the ways that their colleagues have supported people with disabilities on experiential exchange programs. The stories will provide individuals with disabilities and professionals alike with an idea of what volunteering or interning abroad with a disability can look like.
In this Issue
You will have the opportunity to read about individuals with disabilities who have volunteered, interned and more overseas. A young blind person volunteered in San Francisco before carrying out her own community service project in her hometown of Armenia, Colombia. A Deaf woman from the United States went to the Dominican Republic, the birthplace of her late father, to survey life of Deaf and hard of hearing people. A man with a limb difference, who taught himself to play guitar, has been spreading his message of encouragement and hope on the U.S. Department of State-funded American Music Abroad Program. A wheelchair basketball player and two-time Paralympian has found a group of like-minded promoters of sport through the Global Sports Mentoring Program, which will enable him to lift up more young athletes in his Township of KwaZulu-Natal, South Africa.
In two instances, we feature individuals who some may have assumed to be unsafe overseas. After advocating for herself, a blind service scholar at Mercer University was able to go to South Africa to advise business owners. Another retired educator served in the Peace Corps Response while managing a lower back condition, which might have, but didn't, create an issue for her.
The common thread in these stories is that through open-mindedness and creativity, individuals with all kinds of disabilities can meaningfully and safely experience the world. ■
Editor: Justin Harford
The information in this publication is provided for general informational purposes only. References do not constitute an endorsement of any websites or other sources.
Copyright © 2022 Mobility International USA. All rights reserved. This publication may be printed for educational purposes only.
Contact NCDE: www.miusa.org/NCDE
---
This is part of Experiential Exchanges AWAY: People with Disabilities Expand the Definition of International Exchange, continue reading the publication.